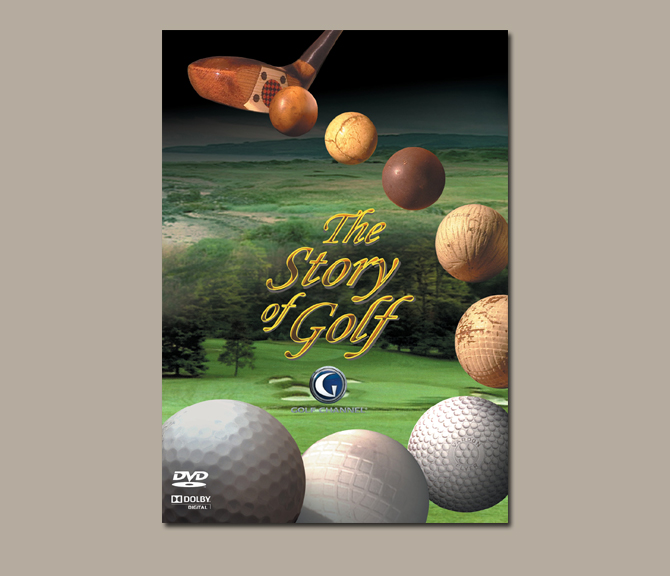 The Story of Golf - DVD
As Seen on the Golf Channel!
Price Includes Shipping Via the USPS Within the 50 States.
For Expedited or International Shipping Costs Please Email Us at barb@golfspast.com
The Story of Golf is a must-have for all golf enthusiasts. This three-hour documentary brings to life the complete, rich history of the game and features highlights of the game's top players.
Hosted by Golf Channel personality and noted golf historian Rich Lerner, it delves into golf's history with rare and vintage film, pristine footage of some of the world's most breathtaking and famous courses, and behind-the-scenes accounts and intimate profiles of golf's greatest players.
The comprehensive history weaves through a framework of memorable moments, heroic performances, important advances in equipment, major changes in golf course architecture and landmark revisions to the rules. The story also includes behind-the-scenes accounts and intimate profiles of golf's greatest players, from Bobby Jones, Gene Sarazen, Sam Snead, Ben Hogan and Babe Didrikson Zaharias to modern champions like Arnold Palmer, Jack Nicklaus, Gary Player, Greg Norman and Tiger Woods.
Chapter Highlights
"The Supreme Amateur"
A touching biographical profile of the great Bobby Jones and his inimitable career, from his unequaled Grand Slam to his creation of Augusta National Golf Club.
"America's Triumvirate"
All born in 1912, Byron Nelson, Sam Snead and Ben Hogan represent the new breed of touring pro as the prize money grows and galleries flock to the courses.
"The King"
The life and legend of Arnold Palmer, golf's greatest showman and piped piper. With courage, talent and charisma he makes his indelible mark in golf while television discovers "Arnie's Army."
"The Ultimate Champion"
Perhaps the greatest player of all time, Jack Nicklaus is profiled in an awesome career that encompasses an amazing 18 major championships victories and 19 runner-up finishes.
"The Tiger Effect"
Tiger Woods burst onto the golf scene with two words—"Hello, world." And every aspect of that world changed in almost an instant. Tiger Woods and his highlights are center stage in golf's spotlight.
Running Time: 3 hours 5 minutes
Item: SOGDVD