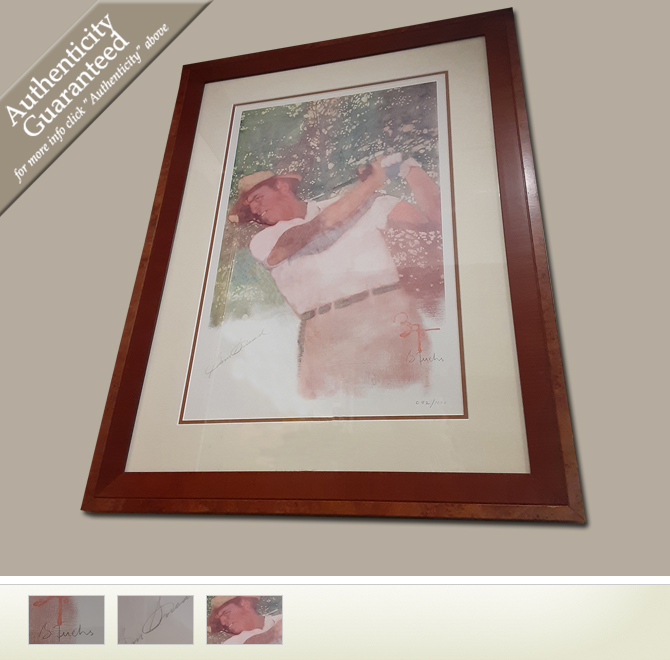 Snead, Sam - Signed Print by Bernie Fuchs
The 1950 LA Open at Riviera Country Club was host to an epic tournament played out between Ben Hogan and Sam Snead. Hogan made an unexpected return from his near-fatal, 1949 car accident to challenge for his fourth L.A. Open title. Closing with three straight 69s, Hogan appeared destined for perhaps the greatest comeback win of all time before Sam Snead birded the final two holes, tying him at 280. Rains forced the two legends to return a week after the final round for a playoff, where Snead shot a 72 to defeat Hogan by four and claimed his second Los Angeles title.
Bernie Fuchs was an American artist know for advertising art, magazine illustration and portraiture, including a series of U.S. postage stamps. He painted portraits of several U.S. Presidents, including John F. Kennedy, Lyndon Johnson, Gerald Ford, Jimmy Carter and Ronald Reagan, as well as of such athletes and celebrities such as Muhammad Ali, Arnold Palmer, Jack Nicklaus, Ted Koppel and Katharine Hepburn. In 1991, Fuchs was named Sport Artist of the Year by the American Sport Art Museum and Archives.
This limited edition lithograph #92/1000 has been signed by Sam Snead as well as the artist, Bernie Fuchs.
Framed Dimensions: 32" x 24"
Item: ASD1888