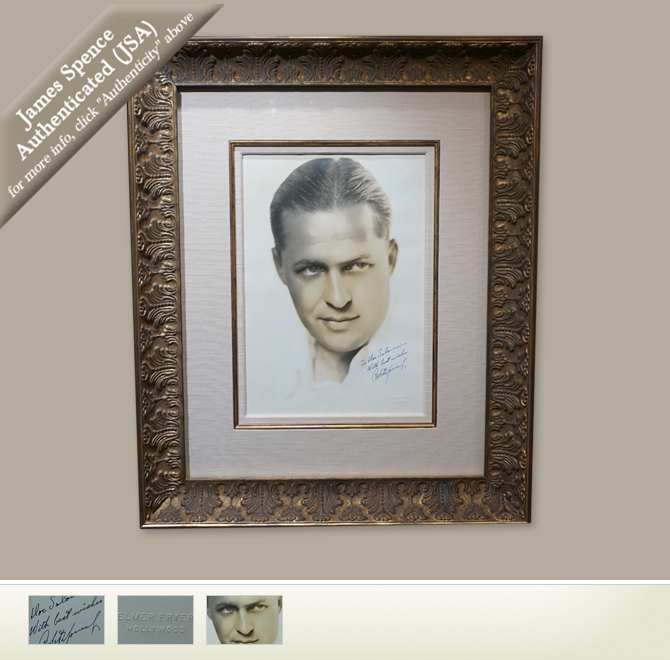 Jones, Robert T., - Autographed Fryer Photo
Bobby Jones made 18 instructional golf films in Hollywood between 1931 and 1933 in which he coached well-known film stars with golf pointers. The films were popular, and Jones gave up his amateur status while earning lucrative contract money for this venture. These films were put into storage and were unavailable for decades, but a surviving print was located 60 years later and put into video format for preservation by Ely Callaway, a distant cousin of Jones's.
Elmer Fryer is a Hollywood great who cannot be missed when mentioning the glamour photography of yesteryear.
Fryer was born January 21, 1898 in Springfield, Missouri. He began working as a photographer in 1924. When Warner Brothers and First National Studios joined operations in 1929, Fryer replaced Fred Archer as head of the new Warner-First National Stills Department. During the 1930s he took portraits of Dolores Del Rio, Kay Francis, Barbara Stanwyck, Bette Davis, James Cagney, Errol Flynn, George Brent among other Warner Brothers stars. Fryer left Warner Brothers in 1941, shortly before his death at age 46 on March 3, 1944.
Fryer is known for his detailed and complex eye for posing his subjects. He had a wonderful sense of modernist style and fashion. He made use of the art deco period's elegant shading and shadowing in black and white photography.
This striking photo of Jones taken by Elmer Fryer during his Hollywood years has been inscribed and signed by Jones: "To Doc Soloman, With Best Wishes, Robert T Jones Jr.". Between the full, vintage signature of Jones and the Fryer image of Jones this is an incredibly desirable collectible!
Framed Dimensions:  22 1/2" x 18 1/2"
Golf Links To The Past is proud to guarantee the authenticity of every autograph we sell. In addition, we provide appropriate documentation from official licensees who have commissioned private signings or we employ the services of the two leading independent autograph authenticating companies — James Spence Authentication (JSA) and/or PSA/DNA.
Item: ASSJBJ