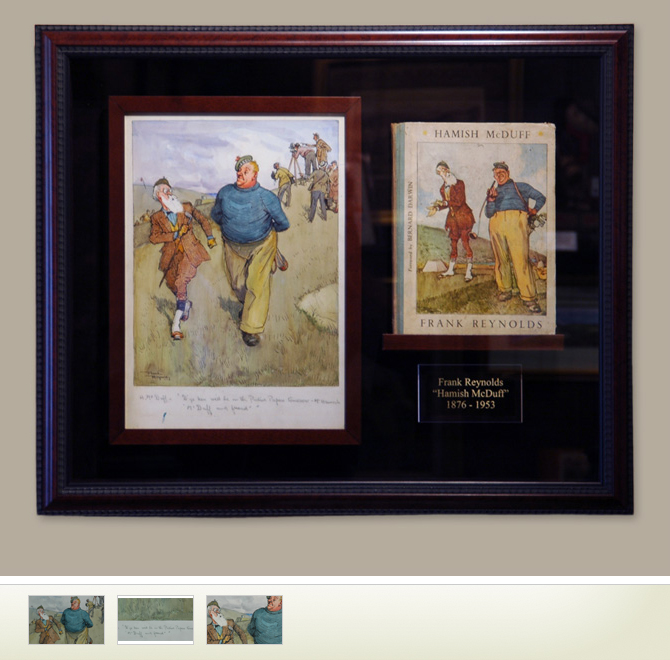 Reynolds, Frank - Original Hamish McDuff Watercolor
Frank Reynolds, the son of William George Reynolds, the artist, was born in London on 13th February 1876. After studying at Heatherley's School of Art, Reynolds began working for Illustrated London News. He also produced cartoons for several other journals.
Reynolds first began contributing to Punch Magazine in 1906. He also provided the illustrations of several books by Charles Dickens including David Copperfield (1911), The Pickwick Papers (1912) and The Old Curiosity Shop (1913).
During the First World War Reynolds cartoons appeared regularly in Punch Magazine. As Mark Bryant has pointed out: "Though he drew many varieties of cartoon he is particularly remembered for his anti-Kaiser pictures in Punch during World War I, notably the famous Study of a Prussian Household Having its Morning Hate."
Reynolds contributed to several journals including The London Magazine, The Sketch and the The Windsor Magazine. Reynolds replaced F. W. Townsend, his brother-in-law, as Art Editor of the magazine in 1920 and held the post until 1930.
In later years Reynolds concentrated on book illustration. This included The Golf Book (1932), Off to the Pictures (1937) and Hamish McDuff (1937).
This original watercolor painting of Hamish McDuff has been signed by Reynolds and he's also written in pencil in the bottom margin, "H. McDuff - 'D'ya ken we'll be in the Picture Papers tomorrow - Mr Hamish McDuff and friend". The painting appears in Reynold's book Hamish McDuff which is also included in this brilliant display. The first edition copy tells an amusing golfing story of a caddie, through the use of illustrated cartoons. The foreword was written by Bernard Darwin and is illustrated throughout with humorous cartoons by Reynolds.
Watercolor dimensions: 15" x 10"
Framed Dimensions: 27" x 22.5"
Item: ASA901