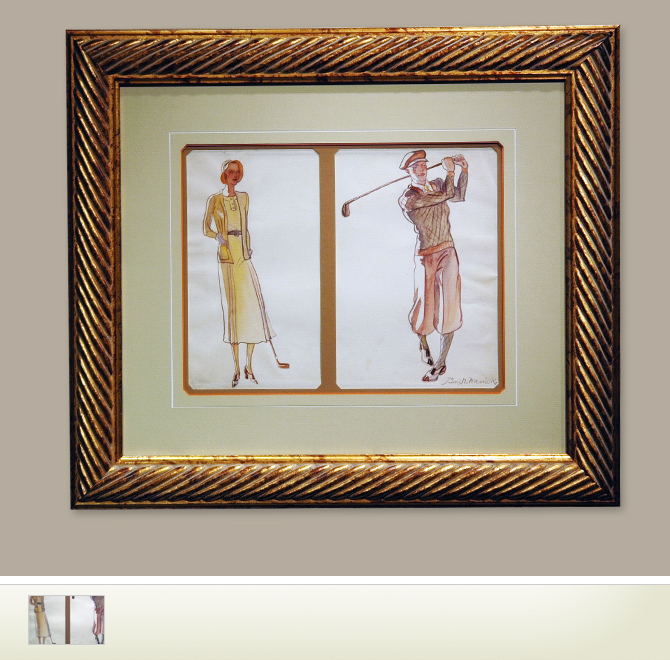 Newton Messick, B - Original Watercolor
Regular Price $1,500
A Savings of 50%
Original watercolor by Benjamin Newton Messick (American, 1901-1981).
Benjamin Newton Messick began his art career in Los Angeles after serving in the armed forces during World War I. He studied at Chouinard Art Institute with F. Tolles Chamberlin (1873-1961) from 1925 to 1932. Thereafter he supported himself as a designer for department stores, a mural painter for the Works Progress Administration and Treasury Section, and during the early 1940s as a sketch artist for the motion-picture industry, first at Disney Studios and then for Metro-Goldwyn-Mayer. Throughout his career Messick also supported himself by teaching, as an instructor of life drawing at Chouinard, 1943-51, and of drawing and painting at the San Diego School of Arts and Crafts in La Jolla and at the Los Angeles Athletic Club. In the 1950s he established with his wife, artist Velma Hay (born 1912), a teaching studio in Long Beach. In 1956 he was elected a fellow of the Royal Society of Art in England.
Messick became known nationally for his circus images, particularly his painting of Emmett Kelly, the noted Ringling Brothers' clown. Messick viewed the circus as a pleasurable escape from reality.
He was one of the few regionalists working in Los Angeles to infuse his art with social commentary. His early wartime experiences formed in him a compassion for his fellow man, especially the unfortunate. His favorite subjects included bums, preachers, prostitutes, and performers, which were portrayed with sympathy and gentle humor. The art critic Alfred Frankenstein referred to Messick as a "modern Daumier."
Framed Dimensions: 20 1/2"w x 18"t
Item: ASA479