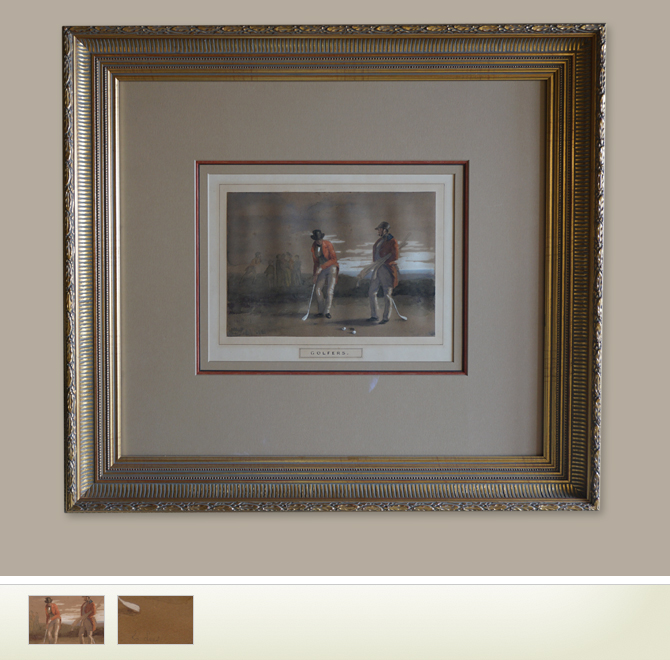 Lees, Charles - Golfers
In 1847, after 8 years, Charles Lees (1800-1872) completed his depiction of the 1844 grand match at St Andrews in an oil painting, The Golfers, which has been cited as being "the most famous golfing work of art in the world." It shows the annual autumn meeting of October 1844, the scene being set at the 'Ginger Beer Hole' on the Old Course at St Andrews. The match that Lees painted was between Sir David Baird and Sir Ralph Anstruther of Balcaskie against Major Hugh Lyon Playfair of St Andrews and John Campbell, Esq. of Glensaddel. As a portrait painter Lees had painted the true likeness of the actual players and spectators, and a key survives naming them. The original oil painting is owned by the Scottish National Portrait Gallery. An engraving was made by Charles E. Wagstaffe (born 1808) from which prints were produced. In 2006 the National Galleries of Scotland produced a monograph on the painting: 'The Golfers', by P. Lewis and A. Howe.
This superb watercolor has been signed and dated: "C Lees 1848" and is 6.5" by 9" and was apparently created during the time of the process with the large scene, and incorporated images much like those in the small oil painting on display in the 'dirty room' at the Royal & Ancient Golf Club at St. Andrews.
This is the only example of Lees' work on golf that is not in a permanent museum. He created only 7 paintings of Golf in his lifetime. One has been destroyed in a home fire.
This very important painting was acquired from the Collection of Morton W. Olman in 1987.
Framed Dimensions: 22.5" x 25"

Painting Dimensions: 11"x8"
Item: TGC-A001