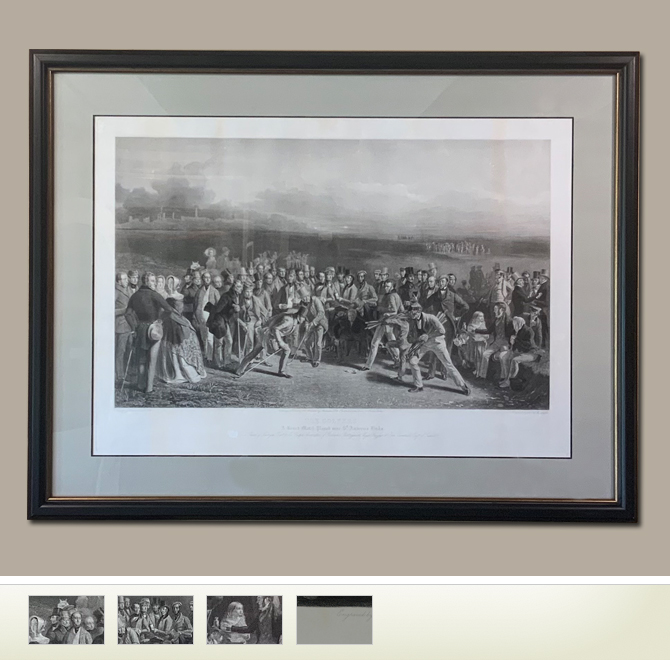 Lees, Charles - The Golfers - A Grand Match
Noted British artist Charles Lees (1800-1880) painted golfdom's most famous canvas, "The Golfers" a famous match in St Andrews, in 1847. Prior to executing his 7-foot-long masterpiece, Lees painted small portraits in oil, some of which appear in the book, "A History of the Royal and Ancient Golf Club" by H.S.C. Everard and are now privately owned. The original oil is presently owned by a descendant of one of the subjects who originally commissioned this spectacular painting.
The work shows a moment captured from the 1841 Royal & Ancient annual meeting on the Old Course at the Royal and Ancient Golf Club, St Andrews. The center of everybody's attention is a decisive moment in a match between Sir David Baird and Sir Ralph Anstruther against Major Hugh Lyon Playfair and John Campbell of Glen Saddel. Lee carefully composed this complex scene, which includes over fifty individual portraits, using photographs of some of the golfers to help him. A key survives which identifies all the players and spectators.
This is a steel engraving of the Grand Match done in 1850. The engraving is marked in pencil "58", indicating it was the 58th print made from the steel engraving plate. Engraved by Chas. E. Wagstaffe. The print has very good detailing and is beautifully framed.
Framed Dimensions: 47" x 36"
Item: ASA177