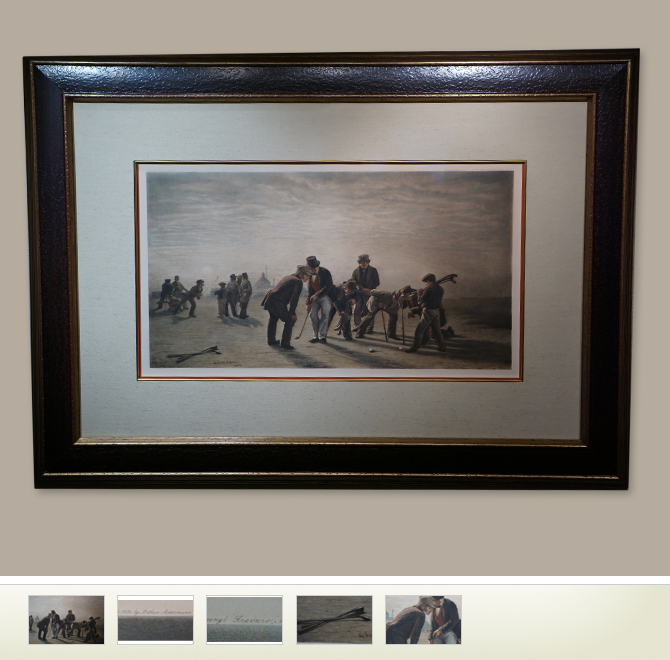 Lees, Charles - Summer Evening on Musselburgh Golf Links
Summer Evening on the Musselburgh Golf Links by Charles Lees was first painted in 1859. While Lees was a prolific painter, he painted relatively few golf pictures. According to the November 1914 Golf Illustrated (New York), Summer Evening on Musselburgh Golf Links remained long undiscovered because an early buyer, interested not in the subject but in the artist's work, removed it from the Royal Scottish Academy to his residence in Canada. Its accessibility was suspended until the private buyer's son, an avid golfer, came into possession of it.
The heir, Mr. Walter Brown, was soon urged to permit a reproduction, for which purpose it was shipped by the American branch of Arthur Ackermann & Son to Munich, Germany in 1913 — where a photogravure plate was made. The painting was returned barely in time to avoid the outbreak of WW I — and was lost for a time. It has now turned up, and been verified as genuine by an Edinburgh art historian (ex National Portrait Gallery). The original plate, from which only a few prints were struck, is believed to have been destroyed during the war. It's also believed that there are only a handful of surviving examples of this print in the world.
This 1914 hand colored engraving, of which fewer than 5 are known to exist, is handsomely framed with a linen mat.
Overall framed dimensions: 40" x 29"
Item: ASA425