Info: Your browser does not accept cookies. To put products into your cart and purchase them you need to enable cookies.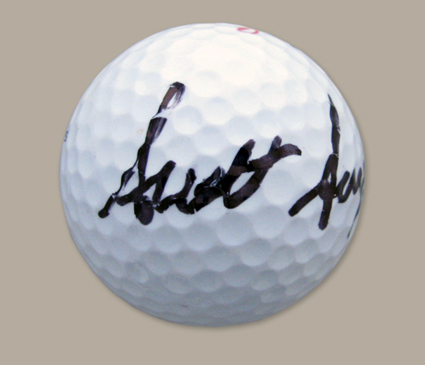 Simpson, Scott - Autographed Golf Ball
Born: Sept. 17, 1955 in San Diego, CA.

The highlight of Scott Simpson's career was his victory at the 1987 U.S. Open Championship, his only win in one of golf's four majors. He birdied the 14th, 15th and 16th holes of the final round to overtake Tom Watson, and win the title at the Olympic Club in San Francisco, by one stroke with a three under par total of 277.
In 2005 Simpson turned fifty and became eligible to play senior golf. He won his first Champions Tour title in 2006.
Golf Links To The Past is proud to guarantee the authenticity of every autograph we sell. In addition, we provide appropriate documentation from official licensees who have commissioned private signings or we employ the services of the two leading independent autograph authenticating companies — James Spence Authentication (JSA) and/or PSA/DNA.
This autographed golf ball has been authenticated by JSA.
Price: $59.00
Item: 10901
Last Updated: Wednesday, 27 May 2015 00:34