Info: Your browser does not accept cookies. To put products into your cart and purchase them you need to enable cookies.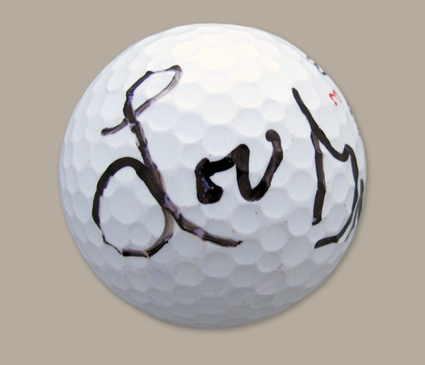 Graham, Lou - Autographed Golf Ball
Born: Jan. 7, 1938 in Nashville, TN.

Lou Graham won in 1975 at the Medinah Country Club in Medinah, Il. beating John Mahaffey by two strokes in a playoff to capture the US Open Championship.
Graham played on three Ryder Cup teams (1973, 1975, 1977), and was a member of the victorious 1975 World Cup Team. He was inducted as a charter member of the Tennessee Golf Hall of Fame in 1992. During his career, he won over $1.4 million on the PGA Tour and over $600,000 in Senior Tour career earnings.
Golf Links To The Past is proud to guarantee the authenticity of every autograph we sell. In addition, we provide appropriate documentation from official licensees who have commissioned private signings or we employ the services of the two leading independent autograph authenticating companies — James Spence Authentication (JSA) and/or PSA/DNA.
This autographed golf ball has been authenticated by JSA.
Price: $59.00
Item: C10914
Last Updated: Monday, 01 September 2014 20:48