Info: Your browser does not accept cookies. To put products into your cart and purchase them you need to enable cookies.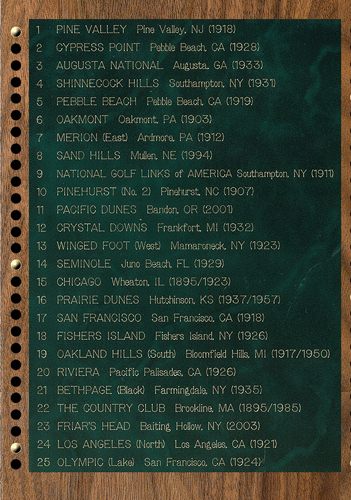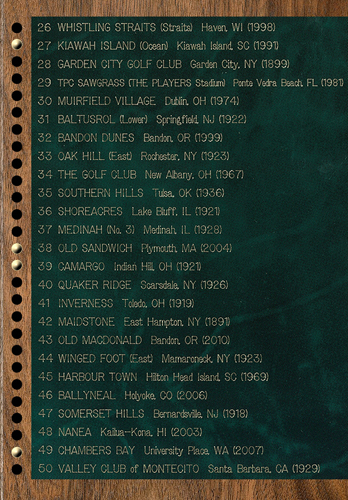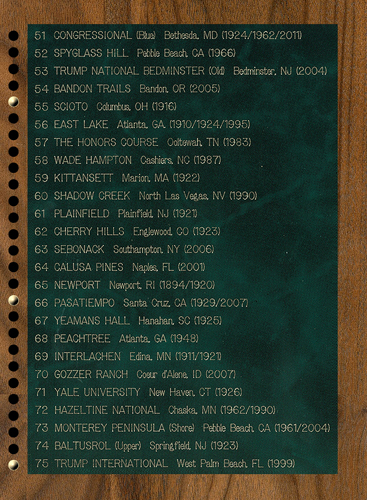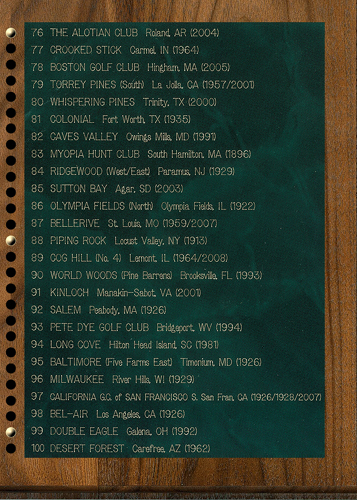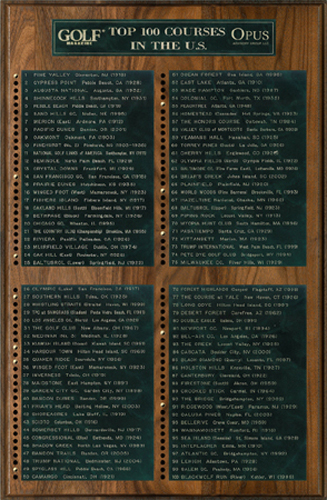 Top 100 Courses in the U.S. Plaque
NOW SHIPPING THE 2013 LIST FEATURED IN GOLF MAGAZINE&reg OCT. 2013 ISSUE
The GOLF MAGAZINE® Top 100 Courses in the U.S. plaque is the perfect gift for the avid golfer who loves to talk about playing top courses almost as much as playing them. This classically designed hardwood wall plaque features the name, location, and opening year of every course on the GOLF MAGAZINE® Top 100 Courses in the U.S. list. The plaque comes with a supply of gold-plated brass pegs which fit into a hole next to the name of each course. What better way to subtly inform your golf buddies about the great courses you've played and to keep track of where you want to play.
The GOLF MAGAZINE® Top 100 Courses lists are the most respected golf course rankings in the game. The esteemed rating panel consists of some of the most influential golfers, course architects, golf journalists, and industry executives around the world -- Nicklaus, Palmer , Sorenstam, Player, Dye, Doak, and Weiskopf. Ardent golfers cherish their experiences playing these classic and elite courses. A GOLF MAGAZINE® Top 100 Courses plaque is the perfect accessory for the golfer who has everything!
Handsome Solid Walnut
Gold Plated Brass Pegs
Ready to Hang
Plaque size: 13"x20"
The Top 100 plaques can be customized with your company logo or special event with a minimum order of 6 plaques ($50 one-time set up fee required). You can view a customized plaque sample by clicking on the fifth image at the bottom of the page.
Top 100 Courses in the U.S.was first published in the September 2006 issue of GOLF MAGAZINE® ©2006 Time4 Media, Inc. GOLF MAGAZINE® is a registered trademark of Time4 Media, Inc. Used under license.
Price: $275.00
Item: GT100U
Last Updated: Sunday, 24 May 2015 08:00