Info: Your browser does not accept cookies. To put products into your cart and purchase them you need to enable cookies.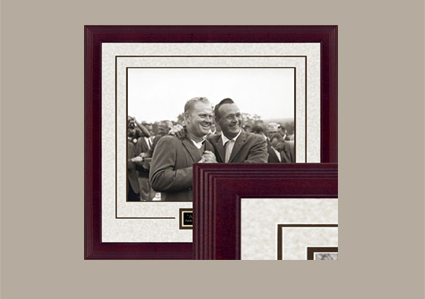 Nicklaus & Palmer 1965 Masters
Arnold Palmer is shown giving Jack Nicklaus his second Masters jacket on April 11, 1965. Nicklaus established a new tournament scoring record.
This 11" x 14" black and white historic photograph has a sepia tone and is available unframed or framed in a cherry finish with double matting and a gray parchment background and engraved brass title plate.Framed outside dimensions are 18" x 22".
Price: $49.00
Item: PNPM
Last Updated: Monday, 25 May 2015 10:20