Info: Your browser does not accept cookies. To put products into your cart and purchase them you need to enable cookies.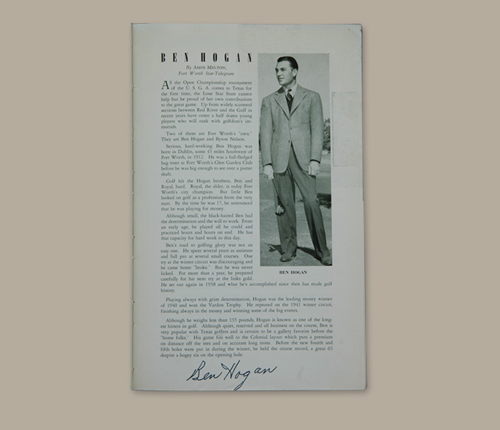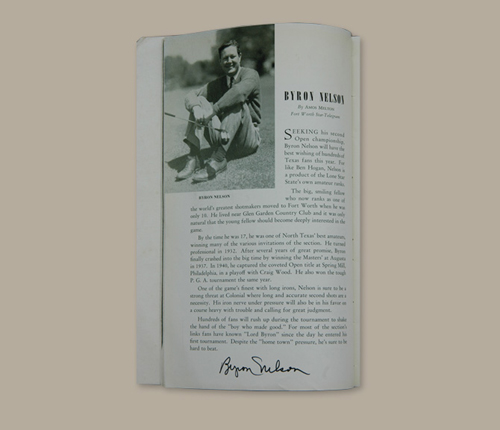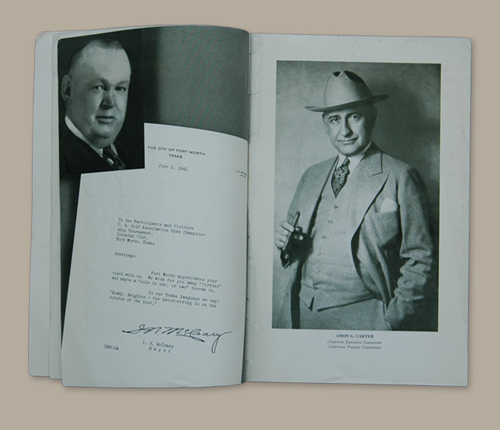 1941 US Open Program Signed by Ben Hogan & Byron Nelson
The 45th U.S. Open in 1941 was held at the Colonial Country Club. Craig Wood, who had lost in a playoff at the U.S. Open two years earlier, won the day in '41, his four-over-par performance at Colonial Club ranking a full three strokes better than the nearest competitor.This would be the last U.S. Open played until 1946. The 1942–45 editions of the championship were canceled due to World War II.
This U.S. Open program is in very good condition, boasting relatively unblemished interior pages - including the key signature pages for Byron Nelson & Ben Hogan, who have each signed their player-bio pages. The entire second half of the program is a detailed pictorial tour of Colonial Club's home, Fort Worth, TX.
Golf Links To The Past is proud to guarantee the authenticity of every autograph we sell. In addition, we provide appropriate documentation from official licensees who have commissioned private signings or we employ the services of the two leading independent autograph authenticating companies — James Spence Authentication (JSA) and/or PSA/DNA. This U.S. Open program has been authenticated by PSA/DNA.
6 1/2" x 10"
Price: $1,800.00
Item: D421
Last Updated: Wednesday, 23 April 2014 14:36